Because that slap shot Doughty unleashed on the world last night in overtime was a bolt of lightning.
I did not fully appreciate until late last night when I turned on my recording of the game watched all the replays.
It was awesome live, and you felt the power, but also got swept up in the emotion. It's nearly impossible to watch a replay on the jumbotron while you are jumping up and down, high-fiving everyone within reach.
The sound it made, I'm surprised Smyth isn't deaf. The power, a lesser man than Drew would have dislocated his shoulder. The fury, all in the face.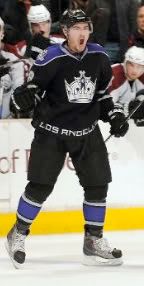 Wowee, wow wow bow chica wow-wow. Hot diggity damn. Holy smoke. Jesus, Mary and Joseph. Slap me sideways and call me geisha. That was one hell of a slap shot.
But you already knew that.
---
---
Categories: L.A. Kings News