We've been up, down and through the top 9 forwards for the Kings in detail.  There are some new looks but the overall make-up is fairly similar to last season, save for the addition of Alexei Ponikarovsky and some new line combinations.
I've been dreading writing this final forward preview on the Kings' 4th line.  Why?  Because I have no idea what the hell it will look like.  Not only is it wholly unclear which players will make up the unit going into the season, from game to game one will likely be hard pressed to predict its make up for the following game.  Expect to see this line shuffle more than a bad joke about a magician with OCD.
However, what is life for if not bold statements based on speculation?
Nothing, that's what.
So, without further adieu, and virtually no idea how to proceed, here is a preview for what may or may not be the Kings' bottom line for the 2010-2011 season.
Brad Richardson "Fighting an Uphill Battle"
If you ask me, I should have written about Brad Richardson two articles ago.  Last season I wrote a short piece, very short, about Richie titled "Brad Richardson is the Kings best forward."
It went like this:
"I've decided that pound for pound he makes the most of every second of ice time he has. He plays the hardest and does everything.

I love me some Brad Richardson."
That's about as concise as I can express my feelings on Richardson.  Last year he put up 27 points (11g, 16a) in 81 games, playing on every single line at one point or another.  He showed marvelous chemistry with Stoll and Brown, and battled his way from the 4th line to quality ice time with Anze Kopitar.
As it stands, Richardson is the only real "lock" for the 4th line.  He can and does often play both center and left wing.  He plays a tenacious game, hounding the puck along the boards and back-checking with fury.  Brad has, at times, displayed offensive skill beyond that of your average 4th liner.  The question becomes whether the offensive flashes are mere hiccups along the road of an otherwise defense-first career, or does Richie simply need the opportunity to shine?  Perhaps the same opportunity Scott Parse has already been granted.
While Richardson is likely to begin the year centering god-knows-who on the 4th line, it is reasonable to expect him to once again work his way up the lineup onto a scoring line.
OK, the easy part is over.  Onto the god-knows-who part.
Kevin Westgarth "Fists on Skates"
Kevin Westgarth is the only other 4th liner to be given the "it's his job to lose" tag.
Why?
Do you see any other 6'4″ fighting machines on the roster?
'Nuff said.
For the last week, Bobby and I have both been quite frank about our displeasure with 'Westy's' skating, the aspect of his game that management has repeatedly urged him to improve…and it has improved.  However I dare say not enough.  While primarily on the roster to hit people in the face, he will have to occasionally play a shift of hockey that does not involve a scrap.  Those are the shifts that concern me.
There is no doubt that with Dean Lombardi and Ron Hextall at the helm, there will always be a fighter on deck for the Kings.  The big question is whether or not Westgarth is an actual improvement over Raitis Ivanans, or whether he is simply a younger version of the same intimidating tank that is responsible for the old quip "I went to a fight and a hockey game broke out."
So perhaps two-thirds of the 4th line is set.
?-Richardson-Westgarth.  We will see this pair at some point, of that I'm confident.  At the same time, Westgarth will most likely not be dressing for the Kings every night.  Whether Westgarth is a staple of the 4th line, or an extra skater who suits up when facing particularly tough teams is a bit unclear.  That depends on Westgarth's ability to do more than fight, like play defense.
The Best of the Last "We make training camp interesting"
The hatchet has sent 23 players packing. 37 remain.
If we count Richardson and Westgarth as part of the Kings' roster, that gives us 11 forwards.  Depending on the number of defensemen the Kings carry (7 or 8), that leaves anywhere from 2 to 3 spots open for competing forwards.  With the recent cuts, 8 forwards vie for those few jobs.
Kyle Clifford "Just try and stop me"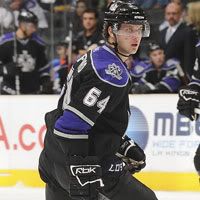 It is no secret that I am very high on Kyle Clifford.
So are the Kings.
Coming into just his second camp as Kings' property, Clifford was the final cut from the roster last year, fresh out of the NHL draft.  That is because though Clifford has been playing junior hockey, he plays the NHL game in a man's body.
Clifford is, in one package, a goon, a fighter, and a damn good hockey player.  His offensive skills have been on the upswing, and his defensive prowess is only getting better with age.
His scowl says it all.
You don't want to mess with Kyle.
The big left winger is so far off to a good start at training camp, looking sharp in drills.  Strong on his skates and with the proper know-how to be in the right place at the right time, Clifford is a fearless player.  I've seen him taunt and laugh at players he has already left in a heaping pile on the ice.  I have seen him trade punches with anyone willing to drop the gloves.  I have seen him get his stick in passing lanes and his shots on net.
Regardless of who else plays on the 4th line, I believe Clifford is ready to play there, not because he has nothing left to prove in juniors, where he must go if he does not make the cut, but because he would be an asset to the Los Angeles Kings' season.
If I were to pick a rookie to make it this year, it would be him.
Brayden Schenn "A waste on the bottom 6?"
There is little doubt that Brayden Schenn has what it takes to play in the NHL.
There are few who will tell you that Schenn still has something to prove at the junior level.
What many disagree on is whether or not the 4th line is a waste of time for Schenn.
There are two schools of thought.  One says that a young, though talented player who projects to be a top 6 forward should be initiated slowly, a la Henrik Zetterberg or Pavel Datsyuk, and earn his keep with minimal ice time before having scoring responsibility thrust upon him.  The other believes that Schenn is too good for the fourth line, that if there is not a spot in the top 6 for him, then he is better off leading his junior team, the Brandon Wheat Kings, for a fourth season.
I believe the latter school of thought to be wrong.  Chalk it up to the same mentality that Dean Lombardi so animatedly spoke out against at Hockeyfest, where he said that young players getting contracts larger than their experience warrants is a major problem for the NHL.
Schenn's game will flourish in a fourth line role.  A highly skilled forward, Schenn has drawn comparisons to Mike Richards of the Philadelphia Flyers due to his leadership and high level of defensive fortitude.  Will Brayden get that opportunity this year?  Several signs point to yes, but he will have to earn a permanent spot on the fourth line.  The one thing I can not imagine is Schenn being kept around past the 9 game threshold to be a healthy scratch more often than not.  If Murray does not plan on playing Brayden in 50+ games, than he should be sent back to juniors.  Schenn is one of the Kings most prized assets at forward, and he will be handled with great care.
My money is on Schenn forcing his way onto the team.
Oscar Moller "Been there, done that.  Let's do it again"
A full season has come and gone between Oscar Moller blazing out of camp and onto a rather porous Kings' team.
Two years ago we saw the passion, talent and tenacity that Moller brings to the rink.
We also saw a boy dominated by men.
Since that time, Moller has clearly focused on becoming a stronger hockey player.  The single thing holding him back from having Scott Parse's spot on the team is the fear that he is too easily pushed around in the NHL.  This summer, Moller hit the gym in a big way and came into camp with what looks to be an extra 10 or so pounds of muscle.  While still diminutive comparatively, that extra poundage will go a long way toward Oscar never wearing a Monarchs' jersey again.
Though easily knocked off the puck in the past, Moller is not easily intimated.  He never gives up on a puck battle and when he does walk away with the rubber expect Moller to shoot the puck.  Moller can bring the defensive prowess and scoring touch that can make a fourth line a true boon for a hockey club, rather than the fear-inducing mess the Kings' bottom line has been in the past.
Will Oscar make the team on opening night?  It is hard to tell.  Terry Murray has already stated that he is not against putting an offensive player like Moller on the 4th line.  Oscar's chances are slightly higher than that of his counterparts for two reasons; he plays all three forward positions, and he has been there before.
The Kings may be young, but the value of experience is not lost.  Combined with his natural leadership abilities and general likability, Oscar is a prime candidate to make the team.
Trevor Lewis "Don't you dare forget about me"
Since drafted in the 1st round in 2006, Trevor Lewis has struggled to get his hockey career on the right track.
Originally thought to have top 6 potential, Lewis now appears destined for a role in the bottom six.  This is not a problem, as the strongest point of Lewis' game is his defensive acumen.  A strong, smooth skater, Lewis made the Kings out of training camp in 2009, but quickly faltered and was sent packing to Manchester, where he remained.
Lewis recently signed a 1 year contract, which could be interpreted as this being a make or break year for Lewis.  Lewis is a solid player who will eventually find a steady role for himself in the NHL.  Naturally a center, Lewis can also play all three forward positions.  Lewis will likely see some time with the Kings this season, either on opening night or as a call-up.
Andrei Loktionov "The KHL is for wimps"
Having now spent two of his formative years far away from home in Russia, Andrei Loktionov is doing all it takes to break into the NHL.
We know that Andrei possesses piercing vision on the ice.  He sees the subtle plays, and he is capable of making them happen.  His only pitfall has been his robustness.
This year, he came into camp stronger than ever.  No taller, but finally beginning to fill out his slightly shorter than average frame.  During camp drills and the recent preseason game against the Phoenix Coyotes, "Loki" was able to fend off the opposition and hoard the puck, patiently waiting for the right outlet.   He was not able to do this at last year's camp.  Much like Oscar Moller, Loktionov was easily knocked off the puck at this time last year.  While he had a strong year in Manchester, a single game call-up cost him over half a season of development time when he dislocated his shoulder.
Perhaps had Loktionov played a full season, he would stand a better chance to make the team.  Though he survived the first round of cuts, I suspect this is more a case of the Kings wanting to get a good, long look at one of their prized assets at forward than considering him for the 4th line.  Terry Murray has stated that he would not hesitate to put a skill player like Loktionov on the 4th line, but I have my doubts.  This is to say nothing against Loktionov, as I hope I am wrong.  My philosophy in regards to Schenn stands with Andrei.  Though he is a smaller, more offensive player, I would love to see him take his lumps on the fourth line.  However, if the argument against is to be made, Loktionov is a prime candidate.  A full year in Manchester on a line with Brandon Kozun could do wonders for his offensive development and confidence.
Richard Clune "Zeiler's got nothing on my stick-handling"
Rich Clune hopes to be for the Kings as Sean Avery once was, which I believe he is not.
I enjoy watching Clune play.  He is a smallish forward with a huge attitude and even bigger appetite for destruction.  Not the best of fighters, Clune has fearlessness on his side.
Clune's role on the team comes down to a philosophy permeating through the Kings' organization and much of the NHL.  It is hard to gauge how much Rich's chances of making the team ride on the level of his play, versus a spot simply being left open for the role of pest.
He does have to compete against John Zeiler and Kyle Clifford for this role, so Clune's shot at the team most likely has to do with how confident management is to give Clifford a shot, knowing they can always call Clune up from the minors.
John Zeiler "Clune's got nothing on my speed"
In a world where a grain of sugar is as powerful as a red bull, Zeiler is an intestinal balloon's worth of meth.
Why just recently he did something we'll probably never really know to get mugged by Adam Foote in the Kings' first pre-season game.  Just look over there, he's really excited to punch Dan Carcillo in the ass.
Will Zeiler make the team?  Doubtful.  He spent the full year in Manchester last season, and he isn't getting any younger.  He does have much more NHL experience on his side than either Clune or Clifford, and he is probably a little more… insane, which in this case is a good thing.  However he doesn't match Clifford's size or skill, and Clune has a better sense of defense than Zeiler.
Ray Kaunisto "How to make the most of a debut"
Ray Kaunisto is a name that more are likely unfamiliar with, for the most part, myself included.
Kaunisto was signed as a free agent out of college from Northern Michigan University back in March of 2010.  He is 6'3″ and though his 185 lbs is smaller for that size of a man, Ray looks every inch of his imposing frame.  A good skater and not without a scoring touch, Kaunisto is a big longshot to make the team.  This is likely another case of the coaching staff getting the best idea of where Kaunisto is in his development and his place in the organization.
I liked what I saw from Kaunisto at camp.  He did not make many mistakes, is aware of what defense is and shoots the puck well.  It will be interesting to see how the 23 year old performs in Manchester in his professional hockey career debut.
And that about wraps this sucker up.  Conclusion?  I don't remember where I began.
My best possible guess as at the places on the roster's opening night (assuming the Kings carry 7 defensemen and that Westgarth and Richardson are on the team), would be Oscar Moller, Kyle Clifford and Trevor Lewis.  Though I think Schenn has a very legitimate shot at taking the place of either Clifford or Lewis.
The Kings admittedly struggle to find the right combination for their 4th line.  This year they have plenty of options for that make-up.  Between skilled players in Moller and Loktionov, responsible players like Schenn and Lewis, energy infusers in Clune and Zeiler, imposing wild cards in Clifford and Kaunisto and a bona fide heavy weight in Westgarth, the Kings can mold the 4th line in any image they have for it.
Go head, play around with the combos.  There are enough to make your head spin.  Moller-Schenn-Lewis, Loktionov-Lewis-Westgarth, Clifford-Richardson-Moller… you get the idea.  My take: Moller makes the team. He paid his dues. He is bigger than last season. Strength and the offensive mindset fit the team. He has earned his keep. Clifford also takes his place among the brass. Kyle infuses a combination of talent and toughness that is rare. Few players in the league are a complete package with a skill set and mean streak. Finally, Lewis stays. He, like Moller, has patiently come along and paid the dues. I see no reason to rush Schenn. Let him take Moller and Lewis' path, albeit not through Manchester. Brayden can go back to Juniors and continue to develop on both ends of the ice. Eventually, he will succeed Stoll on the second line. Terry Murray does not have many easy decisions to make this year, and with the defense mostly set, the top 9 in place and Quick-Bernier the obvious tandem, the 4th line is possibly the most important and the most frustrating.
OK, that's it.  This article is way too damn long.
Bobby, bring on the goalies.
---
---
Categories: L.A. Kings News